The Bed Bug Pros Offering New Organic Bed Bug Product
A new organic bed bug product is now available to our customers in Northeast Ohio! We have done the research, testing and have an exciting new option for our customers. The Bed Bug Pros is just one of 3 pest control companies in Ohio using this great new option!
Traditionally, bed bugs are treated with pesticide chemicals and heat treatments. This great new product can be used in conjunction with both heat and chemical treatments or as a standalone option.
Benefits of Our New Organic Bed Bug Product
Safe for humans and pets
NO bed bug resistance problems
Offers LONG TERM 3 month efficacy
Fast results
How It Works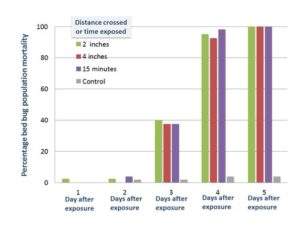 This great new organic bed bug product is a biopesticide which means it is completely ORGANIC. Traditional chemical treatments require the bug to cross the treated surface multiple times in order to become poisoned.
This great new option only requires a bed bug to cross a treated surface ONE TIME. In addition, this biopesticide will be taken by a bed bug back to the colony, killing all of the bugs within the colony.
While this is an organic treatment option, it still requires a licensed pest control company to apply. Regulated and approved by the Ohio EPA, Federal EPA and the Department of Agriculture, because it is used by commercial applicators it is required to be evaluated and pass the most stringent safety and efficacy standards.
Why To Choose This Organic Bed Bug Product
For homes and businesses, this organic option is a safe alternative and partner to traditional treatments. We can effectively couple the biopesticide with heat treatments to provide long term, residual coverage. We can also us it in conjunction with traditional chemical applications to ensure any resistance issues are tackled, and to provide the unique colony transport coverage.
Biopesticide is particularly great for individuals that may have a sensitivity to traditional chemical treatments, including sensitive environments like nursing homes, hospitals and hotels. This is also a GREAT option for individuals treating their homes, providing extra effective coverage to ensure an effective bed bug treatment.
Call us today to learn more about this great new organic biopesticide, or to schedule your free inspection! 
If you are interested in preventative maintenance for your home or business, this is a great option! Call us today. 216-544-8292