Bed Bug Dog Inspections
Bed bug dog inspections can be an efficient, affordable and effective means of identifying whether or not you have a problem. In numerous scenarios, Levy the dog has found a single bed bug in an obscure hiding spot. It is truly incredible!
Bed Bug K9 Inspections for Homes and Businesses
Same Day Service Available
We are a Full Service, Licensed Bed Bug Exterminator – A+ BBB Rated
Levy the Dog has been Certified & Inspecting for Over 6 Years
Call 216-544-8292 to schedule today!
From my first time speaking with him and explaining my situation to the final day he inspected the house with the dog, he made me feel at ease. 
Would HIGHLY recommend to anyone that has an issue with Bed Bugs. Also Levy is an awesome dog. She is amazing. 
Always on time never missed an appointment also always answered any questions i had, I would recommend him to anyone.
Schedule an inspection

Get a free quote!
They not only removed the infestation, but also helped us to understand the problem, answering questions, and allaying our fears. They're great! I hope I never have to see them again.
Bed Bug Pros is expert and professional in the treatment of bedbugs. More importantly, Sonny was kind, understanding, and patient throughout this challenging experience. He answered all questions and concerns with very prompt and helpful responses and never made us feel rushed in our conversations.
Bed Bed Dog Detection
While a visual inspection is often sufficient, a K9 inspection can be used to confirm if there is a bed bug problem or to aid in inspecting larger homes and businesses. The quicker she detects whether or not there is trouble, the faster we can make a positive identification and begin a treatment plan. Our experienced K9 and handler team has been trained by the best in the industry, and our detection methods have been proven time and again.
Types of Bed Bug K9 Inspections
Relying on a bed bug dog inspection can be a great way to detect a problem early.  When you first begin to suspect a problem, call us! Detecting an issue early can make treatment easier and more affordable.
At The Bed Bug Pros we use our K9 for different types of inspections.
Initial inspections can identify a problem, even in its infancy.  These targeted inspections are used to confirm a suspicious area, even if evidence could not be located during a visual inspection. 
Follow up inspections confirm that a bed bug treatment process was effective. This follow up process gives our business and residential customers peace of mind and ensures effective treatment.
How Does a Bed Bug Dog Work
Our bed bug dog Levy was hand selected and extensively trained by professionals with decades of experience.  Based on her prey drive and other natural instincts, she has learned to identify all stages of the bed bug life cycle.  This means she can quickly and discreetly inspect large areas or multiple rooms. She smells living bed bugs only, because of a biological cellular process that only occurs in live bugs. Using a dog for bed bug detection is extremely effective. 
Meet Levy the Wonder Dog
Levy is the star of the show, and provides services for customers all over Northeast Ohio. From proactive inspections on homes and businesses to confirming treatment success, she loves going to work every day. In her free time, Levy enjoys running around, chewing sticks, and laying in her very own chair. She also helps foster and rehabilitate dogs for a local rescue group!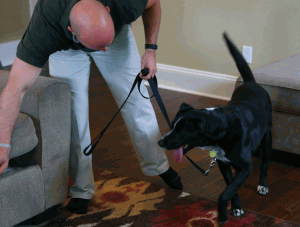 Learn More About Bed Bug Dog Inspections for Businesses
A bed bug K9 inspection can make sense for businesses for several reasons. Learn more!
Click Here
OUR PROCESS
The Bed Bug Pros are not your average pest control company, and bed bugs are not your average pest! Trust a bed bug exterminator that specializes in the effective and affordable treatment processes that WORK! We are a full service company, locally owned and operated in Northeast Ohio.
We walk through your home or business and identify signs of bed bugs, and provide you with a free estimate.
A plan that fits your needs and budget! Effective, affordable bed bug services.
A follow up inspection by a certified bed bug dog, to confirm treatment effectiveness.