K9 Inspections for Bed Bugs
A dog inspection to identify a bed bug problem can be helpful in a variety of situations. Most commonly, we use our bed bug dog to inspect businesses as well as to identify new issues when a houseguest leaves, or you suspect you may have been exposed to a bed bug problem and potentially brought something home.
A dog inspection is incredibly accurate. In many scenarios, our bed bug dog is able to find a single bed bug! 
What to Expect for a Bed Bug Dog Inspection
When we bring in our bed bug dog, we ask that all distractions are removed – This can include people, pets, pet toys and dog food or human food. While she is highly skilled and trained, she is still a (very good) dog!
Levy and Sonny were trained together at a facility in Arizona that specializes in training Bed Bug K9 / Handler teams. Levy was selected specifically due to her intelligence and her prey drive, which is in large part how they train her to be a successful bed bug dog. She is trained to detect bed bugs just like a bomb dog or a drug dog is trained to detect.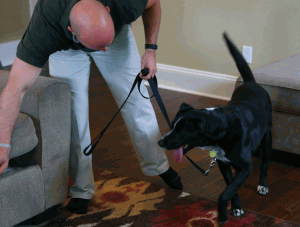 During an inspection, Sonny and Levy move room to room, item to item and she is very motivated to locate any bugs so that she receives her reward. It may look simple, but the training is very unique. We are one of the only full service bed bug companies that has a certified K9 in our area!
Levy the Bed Bug Dog
Levy enjoys going to work every day. She is also used to confirm every single treatment process we complete! She is a very busy girl. During her free time, Levy loves to swim, lay in the sun and hang out with her K9 buddies. She even helps foster and rehabilitate doggos for a local rescue group!