Heat Treating Bed Bugs
Bed bug heat treatments can be a great way to handle an infestation.  The heat treatment essentially heats your home, or a room in your home, to a temperature that bed bugs cannot survive.  They can run, they can hide, but they won't survive!
How Bed Bug Heat Treatments Work
Here at the Bed Bug Pros, we use an electric heating system. This system of heaters and fans uses about the same amount of electricity as an electric stove, and will be plugged into an electric stove or dryer outlet to operate, or directly into an electrical panel.
There are many benefits to treating with electric heat
Control
Monitoring
Even Heating
Safety
Discreet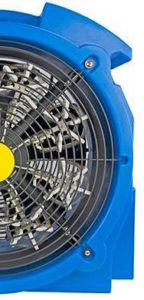 The alternative heat option is propane heating, which requires exterior exhaust (This means you have a large vent coming out of a window or door, for all of the world to see).  This also requires an attendant to be on site to monitor for issues and ensure the temperature does not raise to a dangerous level.
We opted for an electric based system because of the safety, value, control and monitoring capabilities. Electric bed bug heat treatments allow us to treat all or part of your home, we can monitor it remotely using temperature sensors and it provides a nice even heat – Similar to setting your furnace thermostat.
Choosing a Heat Treatment
Every heat treatment requires preparation. We review all preparation tasks with you thoroughly, and ensure you do not have items in your home that are prone to damage (like laminate flooring).
Deciding whether to heat treat your entire home or just specific rooms is another option. We couple our heat treatments with a chemical application to ensure maximum effectiveness. While bed bugs cannot typically survive the extreme heat, they can hide sometimes, and the chemical treatments ensure they are caught after the fact.
We will help you decide whether you need a full-house treatment, typically in the case of an extreme infestation or resistance, or just spot treatment for specific areas / rooms of your home.
Learn more about our heat treatments today! Enjoy an honest, low pressure consultation (FREE!) and let's get a plan in place to make the bed bugs a distant memory. Our treatments are very effective and affordable, and we have very competitive pricing since we are licensed exterminators and able to offer both types of treatment.
Request a free quote here or call us at 216-544-8292.